POSTED IN: on 18 February 2020 by sebastian
On 7th February 2020 the annual CT Skills Awards took place with Walgreens Boots Alliance's Alloga UK named the winner. They beat off around 400 local companies to win this coveted award.
On winning, Chris Williams MD of Alloga said "This is testament to the entire team for all the hard work in supporting our apprentices at Alloga UK. As a business we are passionate about developing our people and I am delighted that our efforts have been recognised".
Each winner was selected for an award category under the CT Skills core values; Pride, Respect, Accountability, Integrity and Service Excellence. The judges noted that Alloga was selected as winners due to the fact that 'they are a very driven company, with a strong culture of offering progression and promotion from within and that they place a huge emphasis on developing each employee to be the best that they can be'. CT Skills is a family-owned training and recruitment provider with over 20 years' experience in delivering a variety of programmes for the benefit of people and businesses across the Midlands.
To present the award to the company, on Friday 14th February, newly elected MP for Bolsover, Mark Fletcher visited the Alloga UK logistics provider. Following on from the presentation Mr Fletcher was given a site tour hosted by David Guttridge Director of Sales and Marketing at Alloga. He toured the warehouse and witnessed how medicines are received and stored safely and securely in accordance with strict regulatory guidance. With over two decades experience in healthcare logistics, Alloga UK, specialises in delivery of pharmaceutical, healthcare, veterinary, medical device and consumer products. The local company Alloga is based at Castlewood Business Park, South Normanton and employs around 1,300 colleagues which include drivers, warehouse operatives, pickers and packers.
Commenting on his visit, Mr Fletcher said: "Alloga distributes approximately £7 Billion worth of products per year and provides a wealth of opportunities in high skilled employment and apprenticeships. It was fantastic to be given a personal tour of Alloga's facilities and better understand the vital role they play in supplying our health services and their work in supporting the constituency of Bolsover."
Carla Marshall Director of HR Alloga said: "We are delighted that our training programmes have been recognised. I must thank Helen Yarrnall who in conjunction with CT Skills has devised our apprenticeship programmes. It was a pleasure to meet Mr Fletcher and to talk to him about how we will continue to develop our people to support our business which will help in strengthening our position as the UK's leading healthcare supply chain service provider."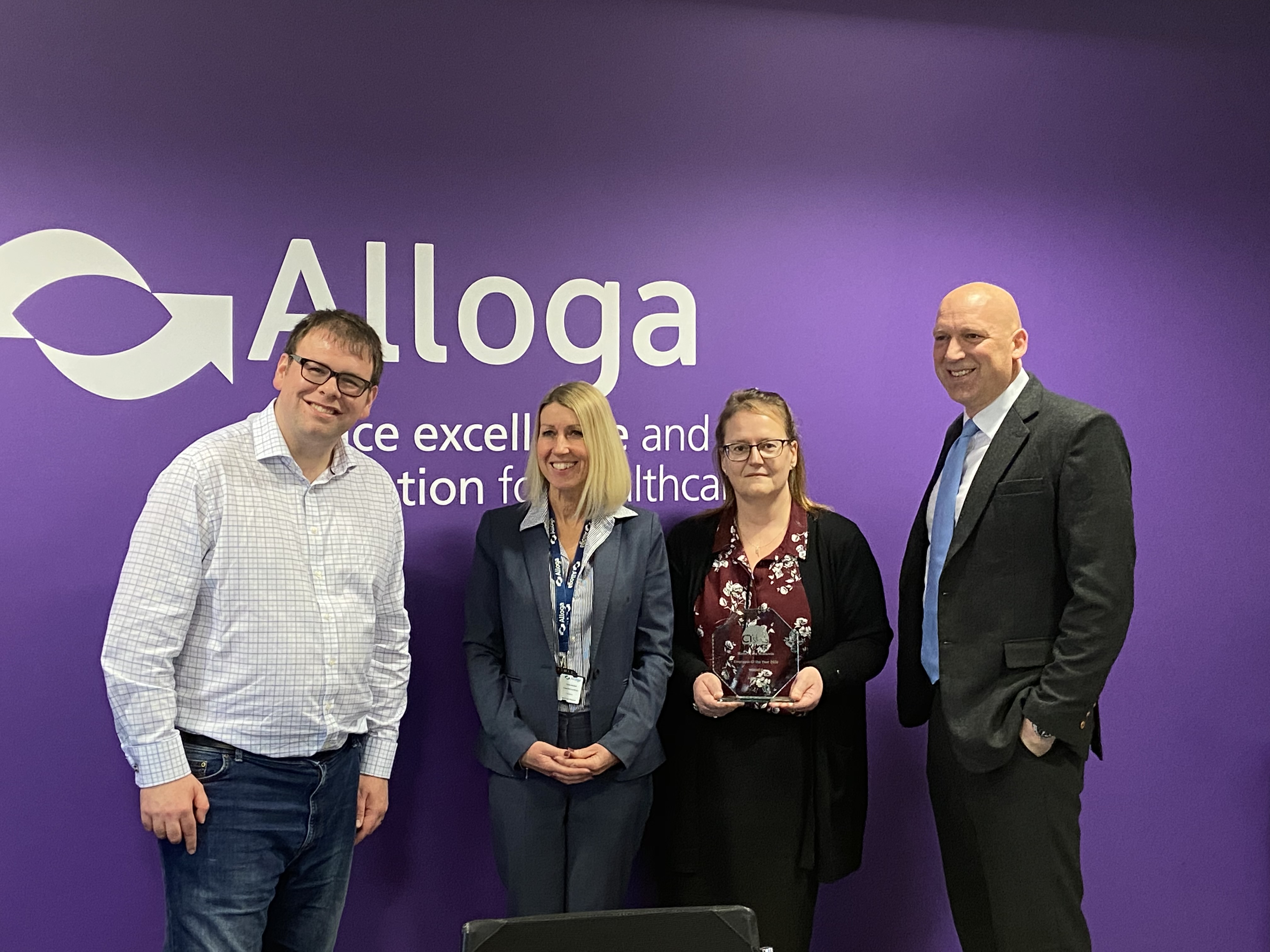 From left to right on photo
Mark Fletcher MP Bolsover, Carla Marshall HR Director Alloga, Helen Yarnall Management Trainer Alloga and Alex Ford CEO CT Skills